---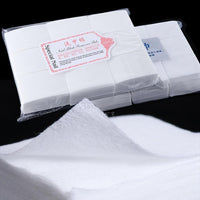 Nail wipes for removing the sticky layer and varnish from the nail plate. These tuffs are made of pure natural cotton fiber.

Nail wipes cellulose - premium, lint-free, high-quality accessories for your nail modelling
Premium lint-free will revolutionize your nail design.
The absorbent pads absorb liquids such as cleaner, brush cleaner and nail polish remover perfectly, allowing you to optimally remove varnish and sticky layers. Due to the revised composition, they are particularly tear-resistant and do not lose any residue, such as lint, on the nail.
The optimal size of the wipes allows you to work economically and effectively.

Properties:
absolutely lint-free - thanks to the smoother surface
tear-resistant - thanks to 13 layers
receptive
700 pieces
Our delivery service offers seamless and efficient shipping solutions to all European Union (EU) countries. 🇪🇺
With our operations based in Austria ( Vienna ), we ensure prompt and reliable delivery of packages to destinations throughout the EU.
Packages are sent via Austrian Post.
The time required for packing and sending the package is 1-2 working days, unless otherwise indicated on the website.
Free delivery is offered for orders +110eur.