---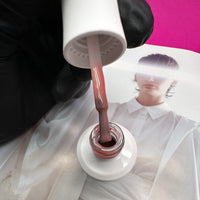 The I.Z.M No wipe colored top coat has a medium consistency. The final treatment gives the coating gloss, resistance to scratches, excellent self-leveling, ensures an even and durable coating.

Characteristics

• Top without adhesive layer for gel polish.
• Transparent gentle shade.
• Resistant to chips and cracks.

Application

• Prepare the nail plate, cover with a base, dry in a lamp.
• Apply gel polish in 1-2 layers, dry in a lamp.
• Final coating, dry in a UV lamp for 2 minutes, in an LED lamp for 30-60 seconds.
Drying time in UV lamp is 2min, in LED lamp - 30s - 1 min. ⠀

Packaging 15ml.
Our delivery service offers seamless and efficient shipping solutions to all European Union (EU) countries. 🇪🇺
With our operations based in Austria ( Vienna ), we ensure prompt and reliable delivery of packages to destinations throughout the EU.
Packages are sent via Austrian Post.
The time required for packing and sending the package is 1-2 working days, unless otherwise indicated on the website.
Free delivery is offered for orders +110eur.