---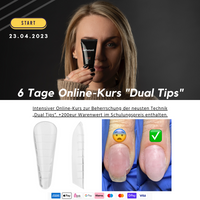 Duale Tipps 👩🏻‍🔬 ✅
————————————
Mit unserer Hauptnagellehrerin Natalia @Natalia_Koliya

Nagelverlängerung?
Einen gebrochenen Nagel reparieren?

Nie schneller und einfacher!

Lernen Sie die Technik, mit der Sie Ihre Nägel am schnellsten und mit dem geringsten Materialverbrauch verlängern können!

Das Training für die oben genannten Tipps ist ein völlig neues Training, das in diesem Moment die Zukunft des Gießens von Nägeln in Bezug auf Schablonen darstellt, einer scheinbar einfachen, aber sehr anspruchsvollen Technik.

- Im Kurs lernen wir, wie man Nägel vorbereitet, bevor man mit Spitzen arbeitet
- Russische Maniküre nach den unten genannten Punkten wie in der Kombi-Maniküre-Ausbildung, mit der Tatsache, dass in dieser Ausbildung die Meister an ihrer Hand arbeiten
- Richtige Auswahl der Spitzen entsprechend dem Nageltyp
- Ermittlung der Materialmenge und alle Fragen rund um die Arbeit mit Typen
- Überschüssiges Material, Verschütten von Material
- Korrekte Form, was erlaubt ist und was nicht als fertiges Design den Salon verlassen❌✅👩🏻‍🔬

Der Schulungspreis beträgt 390€, der Schulungspreis beinhaltet Geschenkmaterial im Wert von +200€.
Bewerbungen für Bildung sind begrenzt.

✅Zubehör und Materialien für die Arbeit werden in einem Geschenkpaket bereitgestellt. Nach der Schulung erhalten alle Teilnehmer 15 % Rabatt auf Produkte aus unserem Webshop und ein Diplom.

Nach Abschluss der Ausbildung erhalten Sie ein gedrucktes Zertifikat an Ihre Privatadresse von Brands of I.Z.M.

🗣️🇦🇹 🇩🇪Die Ausbildung erfolgt in deutscher Sprache.

Der Kurs findet jeden Tag nach 19.00 Uhr statt und wird 15 Tage nach Ende gespeichert, damit Sie ihn erneut ansehen können.

Our delivery service offers seamless and efficient shipping solutions to all European Union (EU) countries. 🇪🇺
With our operations based in Austria ( Vienna ), we ensure prompt and reliable delivery of packages to destinations throughout the EU.
Packages are sent via Austrian Post.
The time required for packing and sending the package is 1-2 working days, unless otherwise indicated on the website.
Free delivery is offered for orders +110eur.