---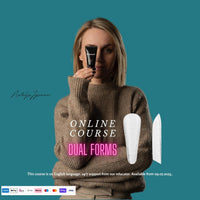 Dual Forms 👩🏻‍🔬 ✅

Nail extensions?
Repairing a broken nail?

Never faster and simpler!

Learn the technique with which you can lengthen your nails in the fastest possible way and with the least amount of material!

The training for the above tips is a completely new training that at this moment represents the future of pouring nails in relation to templates, a seemingly simple but very demanding technique.

- In the course, we learn how to prepare nails before working with tips
- Proper selection of tips according to the type of nail
- Determining the amount of material and all issues related to working with types
- Excess material, spillage of material
- Correct form, what is allowed and what is not allowed to leave the salon as a finished design ❌ ✅👩🏻‍🔬
The course will be online on a private Instagram channel, after making a purchase on our website you will receive instructions on which profile to follow. The course will be available for viewing for 10 days.
Our delivery service offers seamless and efficient shipping solutions to all European Union (EU) countries. 🇪🇺
With our operations based in Austria ( Vienna ), we ensure prompt and reliable delivery of packages to destinations throughout the EU.
Packages are sent via Austrian Post.
The time required for packing and sending the package is 1-2 working days, unless otherwise indicated on the website.
Free delivery is offered for orders +110eur.